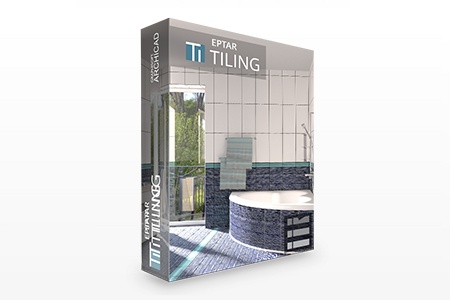 DOWNLOAD WIN
DOWNLOAD MAC
Tiling 2.1
English - German - Hungarian | ArchiCAD 15-22 | (Win - Mac)
Wall and floor tiling application for ArchiCAD. Tiling was developed to reduce the room tiling plan drawing process, while users can define 3D model for interior design renderings and can get an exact calculation from the necessary components in gross and in net square meters, or in pieces.


Free texture, tile size and listing name definition
Wall and floor polygon handling
Door and window edges are supported
Individual and complete row editing in one step
Extra hole definition and editing
Rectangular and polygon based individual placement

Tiling requires the Graphisoft "Accessories" Add-on. Accessories Add-on is available on the Graphisoft website.


Supported versions:
ArchiCAD 22
ArchiCAD 21
ArchiCAD 20
ArchiCAD 19
ArchiCAD 18
ArchiCAD 17
ArchiCAD 16
ArchiCAD 15
Tiling solution
Overview of Main Features
DEMO
Full version
quick, automatic tiling
wall and floor tiling
polygonal tiling surfaces
curved tiled surfaces
tiling for window and wall edges
global tile settings
tile rows can be offset
changing tile rows for new types
inserting tile rows with different heights
diagonal tiling
using your own tile textures
tile arrangements with multiple textures
creating realistic tiling plans
printout document without DEMO label
tiles will not switch to DEMO mode when using Teamwork
continuous use without error messages
tiling views on the floorplan
extra holes option
curved-edged extra holes on floor
managing walls that were split into more parts
listing tiles according to gross/net m2 or pieces
built-in ArchiCAD Key Checker
Updates information