Austrotherm Composite layer editor module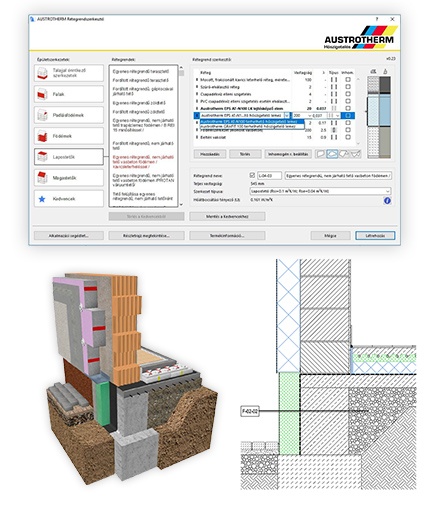 We can only create good buildings if we correctly develop the composite layers of the boundary structures. In this Austrotherm composite editor, a unique development, provides help, because with it designers can begin with proper composite layers during designing. Austrotherm composite editor supplements the composite layers found in ARCHICAD with the solutions recommended by the manufacturer of the insulation material.
INSULATION MATERIAL SELECTION MADE EASY
The composite layer editor provides help in the selection of the correct insulation material, detailed applicational and product information can be pulled for the individual insulation materials. The extension provides useful support when selecting the thickness of the insulation material ( preliminary U-value calculations with the possibility of giving inhomogeneous layer orders). A general building material database with technical data is also part of the development. The architect can also define his own, unique composite layers, which he can save and use in his later work. The system works with ARCHICAD versions 21-26 on both Windows and iOS operating systems.
The solution was created by Austrotherm Kft.

Like all websites, eptar.hu uses cookies for better and safer operation.
More information